Phone: 417-875-5400 ext. 0
Email:
Degrees and Certifications:
B.A. from Creighton University and Wayne State College M.S. and Ed.S. in Administration from University of Nebraska - Omaha Ed. D from University of South Dakota
Dr.

Stephen L. Kleinsmith

Stephen Kleinsmith was raised in southwest Iowa with five brothers and sisters. It was Nixa Public Schools that brought Dr. Kleinsmith to Missouri in the summer of 2000. He is in his 18th year as superintendent of schools and has proven he is not only a local leader in education but statewide and nationally as well. He is blessed to have his wife Kari, who he met in Iowa, serve as a Nixa school counselor. They have two sons: Elijah, a graduate from MSU, and Jacob, a senior at NHS.

Kleinsmith began his career in 1979 as a graduate assistant at the University of Nebraska at Omaha (UNO). Upon completion of this assignment, he accepted a teaching and coaching position with the Omaha Public Schools. Four years later he took a "K-8" principalship at a private inner-city school in Omaha. After four years he moved to a rural community in Iowa to become a junior-senior high school principal. It was during this time (1992) that "Dr.K" earned his Doctor of Education from the University of South Dakota. Prior to earning his Ed.D., he attended Creighton University and Wayne State College where he earned his B.A. degree while playing four years of college baseball. He then earned his M.S. and Ed.S. in Administration from UNO.

From 1993-2000 he rose through the administrative ranks at Millard Public Schools, a suburban school district back in Omaha. There he served as Director of Secondary Education. In 1997 he was promoted to Assistant to the Superintendent and later named Executive Director for Administrative Affairs. In July 2000, the Kleinsmith family (Pictured below: wife Kari, oldest son Elijah, youngest son: Jacob) moved to Nixa, when Dr. Kleinsmith accepted the position of superintendent of schools, which currently has a staff of over 750 and a student body of 6100.

Nixa Public Schools has garnered many awards under Dr.K's transformational leadership style. This TEAM approach has proven to bring about many awards and recognitions. Nixa's Board of Education has been named Outstanding School Board of the Year twice since the year 2000. NPS has earned the state's top accreditation standard, "Accredited with Distinction" for the twelfth consecutive year. Recently, NPS earned two Gold Star (State) Awards and one Blue Ribbon (National) Award. Also, the superintendent and board have been eight-time recipients of the Missouri School Boards' Association's "Education Leadership Team - Program of Excellence" Award.

Dr. Kleinsmith has been honored for his service to education and the community in many ways. Some of the accolades include the Nixa Education Foundation "Educational Achievement" Award in 2011, Springfield Business Journal's Inaugural "Men of the Year" Award in 2011, the Robert L. Pearce "Superintendent of the Year" Award presented by the Missouri Association of School Administrators in March 2010, MO PTA "Distinguished Service" Award in 2005, UNO's "Distinguished Alumni" Award in 2000, "Outstanding Service" Award presented by the American Association of School Administrators in 1997, and "Secondary Principal of the Year" for northwest Iowa in 1993. Dr. Kleinsmith has presented at numerous state and national conferences. He also has been published and interviewed in numerous statewide and national publications.

Over the past thirty plus years, Dr. Kleinsmith has served in leadership positions that would have an impact in creating a brighter future for the communities in which he lives. Some of which are currently, or have been: Springfield Chamber of Commerce Board of Directors, Least of These, Chairman of Ozarks Educational Research Institute, Treasurer for Committee for Educational Equality, Chairman of the Board for the Greater Ozarks Chapter of the American Red Cross, Chairman of the Board for the Nixa Community Foundation, Chairman of the Board for the Nixa Area Chamber of Commerce, Board of Directors for United Way of the Ozarks, Legislative Co-Chair for the Association of School Administrators, Lifetime member of Optimist International, Chairman of the Principals/Site Administrator National Committee for AASA 1996-97, and President of Phi Delta Kappa for the University of Nebraska at Omaha (800 Members).

Dr. Kleinsmith has recently received AASA and NSPRA's Leadership Through Communications national award which will be presented on February 14, 2014. Only one award is given per year to schools in Canada and the U.S.A.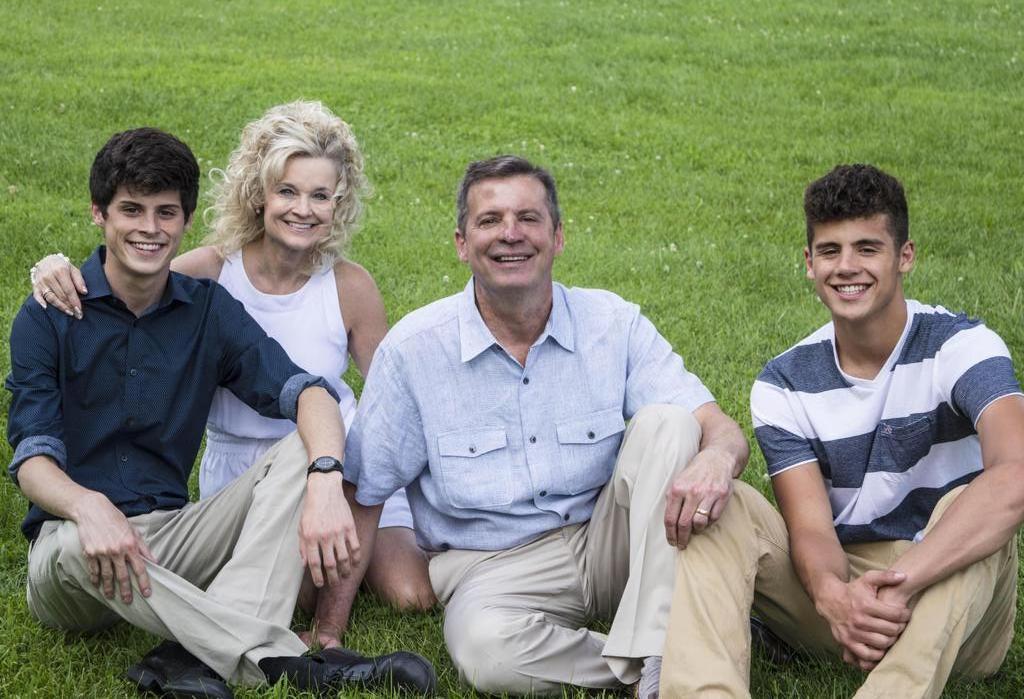 Dr. K with his wife, Kari, and two sons, Elijah (left) and Jacob (right)